Microsoft discontinued the Windows live mail application with Windows 7. It means, users will not get any assistance in future. What! Are you still using WLM and worried about how to migrate Windows live mail emails to the Microsoft's most used application i.e. Outlook. Don't worry this write will help you to transfer Windows live mail mailbox to Outlook, let's find out how.
Windows live mail storage entire data into .eml file format, and the Outlook in .pst file format. Due to this change, it is not easy to move WLM data directly to Outlook. Also, Microsoft clearly mentioned in their document that Outlook allows importing PST files only for emails.
Important Suggestion!
On the internet you will have multiple suggestions to complete the migration process manually for free. But in actuality all the solutions are not result oriented, it means in the exchange of free solutions. You will finally get the output with a distorted email & file header, broken images, missing HTML formatting, etc. So, it is advised not to rely on manual methods to import Windows live mail to Outlook.
You can use professional software and make your Windows live mail database file importable in Outlook.
Let's discuss some advantages of migrating from WLM to Outlook
Reasons to Move on Outlook from Windows Live Mail
There are many differences in WLM and Outlook data management. Aside from data management, Outlook is far better in security, features, UI, etc. Let's discuss some advantages of having Outlook over Windows live mail.
Inbuilt Search Option: Over time mailbox size increases and creates difficulty to find right information. But Outlook provides advanced search features that can save your valuable time and make the search process fast.
Manages Multiple Account: Outlook allows users to configure multiple accounts and manage all accounts from a single interface.
Advanced Security: Microsoft embedded multiple layers security in Outlook. It ensures data security and availability.
Create Separate Data File for Each Profile: Outlook stores complete data into .pst file format. It will automatically create the PST file for each configured profile.
Now, let's move to the solution part directly!
Methods to Import Windows Live Mail to Outlook
If we talk about a number of methods, then there are two different methods that you can follow based on your requirement. In the sections below, I will be explaining both methods in detail.
Use Windows Live Mail Export Option
Migrate from Windows Live Mail Storage Location
Use Third Party Tool to Import Windows Live Mail to Outlook
Perform these methods for Microsoft Outlook 2021, 2019, 2016, 2013, 2010 versions. Let's understand each solution in detail!
Method-1: Migrate on Outlook Using WLM Export Option
WLM export option allows users to either move emails to Exchange server or save in its default file format format. In this section, I will explain the process to move the WLM database to the active Exchange account. If both WLM and Outlook are on the same machine then the process is easy. In the case of a different system, you need to perform some extra steps.
Prerequisite: Close all instances of Outlook and follow steps to import Windows live mail to Outlook account.
Step-1: Launch WLM and move to File >> Export Emails >> Email Messages in the same sequence.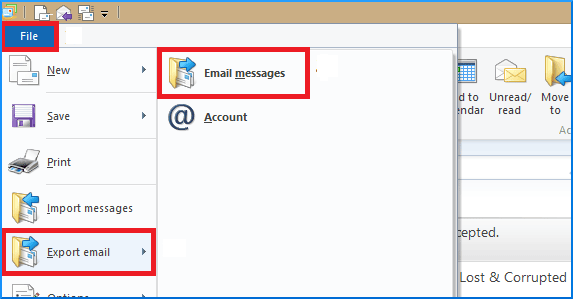 Step-2: A Select a Program window will now appear; simply choose the Microsoft Exchange option and click the Next button.
Step-3: Now a dialogue box will appear with the message "This will export a message from Windows Live Mail to Microsoft Outlook or Exchange server." Easily hit the OK button.

Step-4: From this newly opened window select the radio button Selected Folders and then choose the folder from the list. You can also select the All Folders radio button. At last hit the OK button.
Step-5: Now Choose the Outlook profile in which you want to import WLM data and hit Ok.
Now Windows Live mail to Outlook migration with the help of Exchange server will begin and show you a progress report. After completing this, launch Outlook and verify exported data and use the Import/Export option to save data in Outlook data file format.
Method-2: Move Windows Live Data File from Storage Location
Windows live mail stores complete data in the users system locally. It uses EML file format to save email messages and other associated items. This does not allow users to import Windows live mail to Outlook from the WLM dash board directly. This method is also known as the Drag and Drop method. Lets jump to the steps directly!
Note: Follow this path to find out the Windows live mail data file. If you are willing to move these files to a new computer, then copy all these folders to an external storage device (pen drive or external HDD).

C:\Users\"Username"\AppData\Local\Microsoft\Windows Live Mail
Now you have WLM database files that contain all your email messages and other attributes and Outlook on the same system. Let's explain the steps to open Windows live mail emails to Outlook profile.
Open Microsoft Outlook and create a new folder by right clicking in your configured Outlook profile and then Create new folder.
Select all the EML files (from WLM database), simply Drag all selected files and Drop into the newly created folder in Outlook.
Once the migration process is done, you see all email messages with associated attributes into Outlook.
Note: This method occasionally encounters an issue in which all migrated messages appear as attachments and are unable to create previews. Check  the steps to import EML to Outlook profile.
Drawback of Manual Methods
There are multiple reasons to avoid the free solution to import Windows live mail to Outlook profile. Some of them are listed below:
Unable to migrate large size mailbox
Can skip the attachments in migration process
Does not maintain the HTML formatting
Inline images may be skipped or downgraded
Time consuming and not secure
Method-3: Use Professional Tool for Windows Live Mail to Outlook Migration
In the above section we discussed how a user can import Windows live mail to Outlook manually. Also the limitation of manual methods. To avoid all the limitations, it is advised to use professional Windows Live Mail to Outlook converter tool and change WLM mailbox into Outlook supported PST file format. It required only two steps.
Step-1: Use software to change the Windows live mail mailbox into Outlook data file format using TTD professional tool.
Step-2: Launch the software on your Windows machine and select the identity (Windows Live Mail database).
Step-3: Software will list the all folders in the left panel, you can select any of them and preview complete data.
Step-4: Now click on Save Converted Data and then choose PST option and browse path to save Output.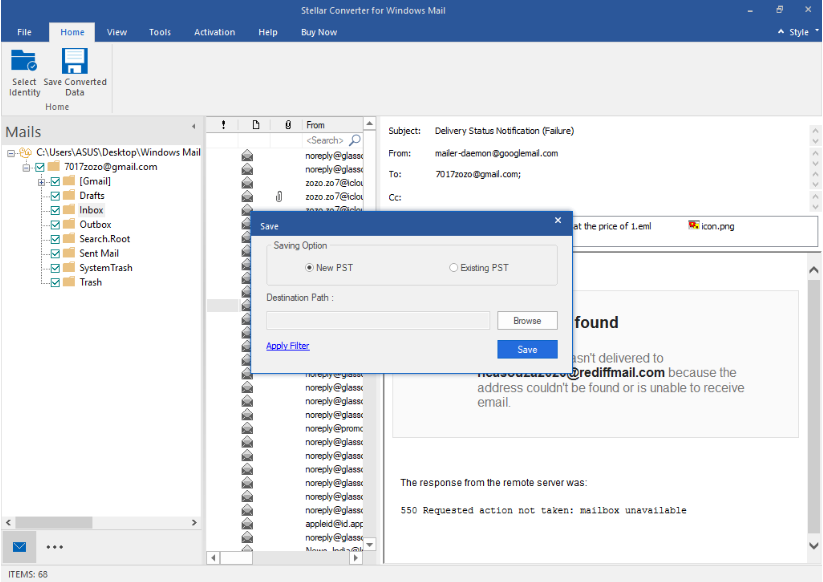 Step-5: Launch Outlook and follow File >> Import and Export option and Import/Export.
Step-6: Now choose import from another program or file option and hit Next button.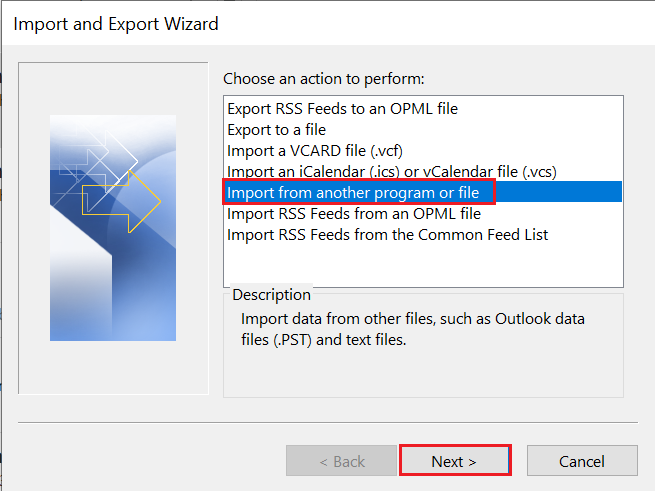 Step-7: Here choose Outlook data file (.pst) option and hit Next button.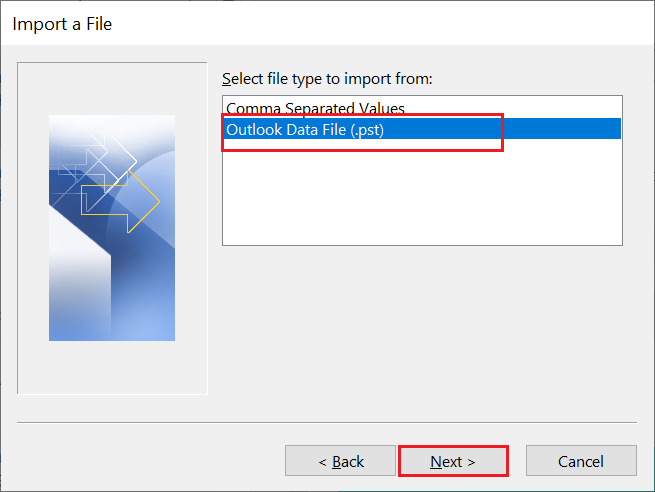 Step-8: Browse the PST file that you created in step 4 and click on Next button and finish the Windows Live Mail storage folder to Outlook import process.
Note: Professional tool ensures complete data migration with data integrity and read unread status. So, it is always advised to use a professional method to import Windows live mail to Outlook 2021, 2019, 2016, 2013, 2010.
Conclusion
In this post, I have explained all possible ways to migrate Windows live mail to Outlook. Manual and professional solutions are explained in the above section. Follow any of them and let me know your success rate.
If you have EML files then follow guidance for EML to PST conversion process.