Overview: If you think deleting files using Shift+Del command or emptying the recycle bin will make your data irrecoverable, then you are wrong. These procedures are not 100% effective and your sensitive and confidential data can still be recovered. Thus, we have introduced a fool-proof solution using which you can permanently delete files from computer hard drive and recycle bin without recovery.
Whenever you delete your data (files or folders) from your computer, you might think that you have permanently deleted your data. However, there are some advanced data recovery software in the market that are capable enough to recover that "permanently" deleted data. This raises a serious question that where all that data goes if it is permanently deleted in the first place.
So, whenever you permanently delete your data whether using Shift+Del command or using Command Prompt, it frees up that amount of space from your storage drive. However, that data is still available on the drive until it is overwritten or wiped using a professional solution.
Thus, in this article, we will guide you through the steps to permanently delete files from computer that is beyond recovery. However, before directly jumping to the steps, lets have a look at some of the top reasons why permanently deleting files from computer hard drive or recycle bin is a good idea.
Reasons Why Users Look for Permanent Deletion of Files from Computer
1. During the shift to upgraded technology, many organizations sell off their older computers or laptops in place of the new ones. In this shift, the IT administrators need to ensure that they permanently delete files from computer hard drive so that the organization's confidential data is safe from external access.
2. If you are planning to sell or hand over your computer to someone, then it is essential to permanently delete files from your computer. This will make sure that your confidential data does not go in wrong hands.
3. Not deleting your files from your computer permanently puts your privacy at risk. If you haven't deleted your data permanently a third person who gets access to any advanced third-party recovery software can recover that data instantly.
4. As these computer devices come with limited storage space, we constantly need to delete those files to free up space for new data. So, it is important to opt for safe methods to permanently delete files from computer hard drive.
Solution 1: Run Advanced Utility to Permanently Delete Files from Computer
Despite the fact that you can use Shift+Del command to permanently delete files and folders from computer, there are still a few traces left of removed data. Hence, a fool-proof solution is required that ensures permanent data deletion and eliminates the chances of recovery.
You can use this expert-recommended Data Erasure Utility that is powerful enough to remove even the smallest traces of deleted data. This application uses various algorithms and techniques to not just delete user-created files but also system-generated files.
You can use this application for various storage devices like computers, laptops, and many more. Along with that, this utility works on multiple file types like photos, videos, documents, application traces, cookies, etc. You can easily delete files from computer's hard drive and recycle bin permanently using this solution.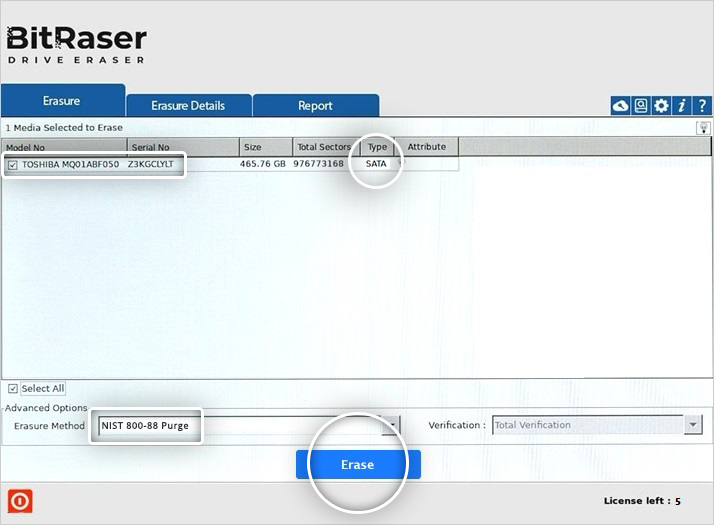 Solution 2: Use Shift+Del Command to Permanently Delete Data
If we talk about one of the easiest and most used ways to permanently delete files from computer, then this is the method that will come at the top position. Many users prefer using this command only and you don't need to install any application in your system. The steps to permanently remove files are as follows:
1. Open File Explorer and navigate to the storage location where those files are stored.
2. If you want to delete selective files, then you can select them one by one by constantly holding the Ctrl key. This will let you select multiple files easily. You can also select all files by pressing Ctrl + A command from your keyboard.
3. Once you have selected the files that you want to delete permanently, use the Shift + Del keys combo from the keyword.
4. You will now receive a pop-up confirmation that asks that this will permanently delete your files from computer.
5. Click on the Yes button to remove those files and folders.
Solution 3: Permanently Delete Files from Computer Using Command Prompt
Another way of permanently removing your files and folders from your computer's hard drive is by using Command Prompt. This method will let you delete files easily and the files will not be moved to the recycle bin. This means that files are directly deleted from the storage drive.
The steps to delete files from computer permanently using command prompt are:
1. First of all, open "Command Prompt" either using the Run window or search it in the Start menu.
2. When the CMD opens, type del /f "filename". In this command, the filename is the name of the file or the path to the file that you want to delete.
3. Finally, hit the Enter button to run this command.
These are the simple steps to permanently delete files from computer's hard drive.
Solution 4: Delete your Files Permanently from Computer from Recycle Bin
As we know whenever we simply delete a file using the Delete key from keyboard or using the Delete option that comes when we right-click on the file, the deleted file directly goes into Recycle Bin. The files in the Recycle Bin are not permanently deleted.
Once you have deleted all desired files from computer, the next step is to empty the recycle bin so that those files are permanently deleted. You can easily do this by opening Recycle Bin, clicking on Empty Recycle Bin option available in the Recycle Bin Tools tab.
Another Possible Solution: If you want to delete everything from your Windows PC, then you can consider running Factory Reset on a Windows PC.
Conclusion
In this write-up, we have tried to cover all possible ways that you can use to permanently delete files from computer. Despite the fact that there are numerous ways to delete your files permanently, but not all solutions are 100% fool-proof. Thus, if you want to delete your files beyond recovery, then it is highly suggested to use the automated tool that is specially designed to delete your data from computer without leaving a trace.