Overview: This blog I will guide you through the steps to import OST file into Outlook 2021, 2019, 2016, and 2013. Here, you will get three verified ways to carry out the process in an effortless manner. If you have a disconnected / orphaned OST file, then using this tried and tested professional solution is a wise decision.
Microsoft Outlook uses two file formats to store users' mailbox data – OST and PST files. OST file is an offline copy of the Exchange mailbox that stores emails, contacts, calendars, tasks, etc. The data within these files can be accessed in Microsoft Outlook even when it is not connected to the Internet.
There are scenarios when a user wants to import OST file in Outlook but is not sure about the appropriate solution for the same.
If you are also looking for a similar solution and want to know the perfect solution, then we must tell you that it is impossible to add OST to Outlook if it is not connected to its original account in Outlook. This means that if you have an orphan OST file (the file that is not connected to its original account), then you cannot load it directly into Microsoft Outlook. You first need to convert it into Outlook-supported PST file format.
However, if the OST file that you want to import into Outlook is connected to the account, then there is a free way to import OST to Outlook account.
Ways to Import OST Files into Outlook
As discussed above, you cannot open an orphan OST file in Outlook, thus, you need a professional third-party tool for the same. However, if the OST file is connected to its account, then there are manual procedures as well.
In the first case, it is suggested to go with Method 1 as it contains a tried and tested automated utility. Whereas, in the second case, you can go with Method 2 or 3 depending on your needs.
Import Orphaned OST to Outlook Using Software
Import Accessible OST File in Outlook
Archive Option to Make OST File Importable in Outlook
According to Microsoft guide manual, there is no way to relink disconnected OST file in Outlook with same or different profile. For importing external data into Outlook, you must have PST file. So, first of all you have to export the OST to PST format and then perform the Import/Export option.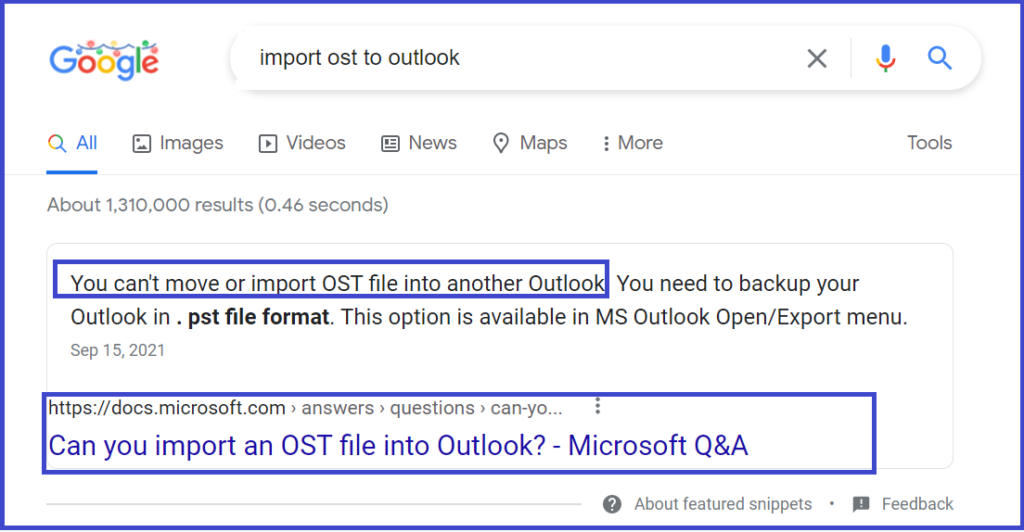 Method-1: A Proven Solution to Import OST to Microsoft Outlook
Despite the fact that orphan OST files cannot be directly loaded into Microsoft Outlook, there are still chances to open those files by converting them into Outlook supported PST format. You can perform this conversion process in a safe manner by using OST File Conversion Tool.
The software comes with a wide range of features and offers a simple user interface to make things secure and quick. Moreover, if the OST file you want to add is corrupt or damaged, you can also load the OST file into the application and fix corruption issues in it.
While adding OST files to Outlook 2021, 2019, 2016, 2013, or 2010, the application makes sure that not a single bit of data is lost during the process. Not just this, there are many export options to choose from other than PST which makes it the best application to use.
You can download this application for free for Windows OS and get your task completed within minutes.
Steps to Load OST Files to Outlook
Lets first make the OST file importable into Outlook. Perform below steps to import OST to Outlook account.
Step-1: Download this software on Windows OS and install it on your system.
Step-2: Click on Add File button to load the OST file in the software. You can also use the Search File option if you don't know the storage location of the OST file.
Step-3: Once you add the OST file, the application will generate a preview of the contents stored in the OST file. Click on the Save Converted File button.
Step-4:  Now choose PST radio button as output file and hit Next button.
Step-5: Select the storage path and apply advanced filters and then click on OK button.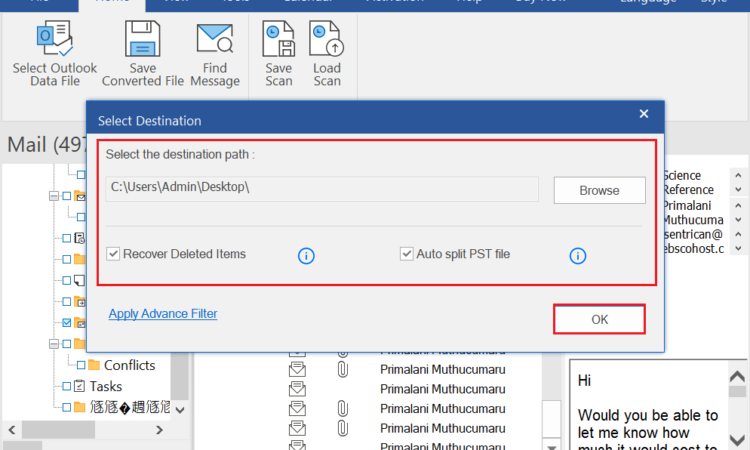 Step-6: Launch Microsoft Outlook and perform import process. For this follow File >> Open & Export >> Import/Export >> Import form another program File >> Outlook data file >> Browse step 5 output PST file and select folder. In this way at last you can easily access OST file into Outlook all versions.
After you get a PST file from this tool, you can follow the below-discussed steps to import it into Outlook.
Method-2: Using the Import/Export Wizard
Now comes the situation when you have an OST file connected to your Outlook account. In this case, you first need to export OST file contents into a PST file. This is because Microsoft Outlook does not provide any direct import option for OST files. Thus, this becomes a necessary process to perform.
However, there are certain requirements to make sure that you can add OST files to Outlook.
You need to have Microsoft Outlook installed and configured on your system
Active Exchange Server connection and the Internet are needed
Requires a bit of technical expertise for a seamless process
The steps to use this Wizard are as follows:
Step-1. Open Microsoft Outlook and click on File >> Open & Export >> Import/Export option.
Step-2. Now comes the Import and Export Wizard window where you need to select the Export to a file option.
Step-3. Select Outlook Data File (.pst) option and proceed further.
Step-4. Choose whether you want to export a specific folder or complete mailbox contents from the OST file.
Step-5. Now comes the step where you need to select the destination path. You also have to select whether you want to replace duplicate Items, Allow duplicate items, or don't want to export duplicate items.
Step-6. Click on the Finish button to complete the process.
Step-7. A password prompt window will appear where you can apply password protection to the PST file. This is an optional feature so you can skip it by clicking on the OK button.
Step-8: Now you have PST file that you can import into Outlook using Import/Export option. Finally you can access OST file into Outlook.
Method-3: Using the Archive Feature of Outlook
The third and last option to import OST files in Outlook 2021, 2019, 2016, and 2013 is by using the Archive feature in Microsoft Outlook. In this procedure, you must note that it will not archive contacts in the resultant PST file. Additionally, this method will only work if the OST file is connected and working in Microsoft Outlook.
The steps to load OST file into Outlook are as follows:
Open Microsoft Outlook >> File tab >> Mailbox Cleanup option.
Select the Archive option from the dropdown.
Here you can choose whether you want to archive a selected mailbox folder or the complete mailbox. You can also choose a date range that you can choose using the "Archive items older than" option.
Browse the destination path and click on the OK button to complete the process.
Conclusion
There are situations when you want to import OST file into Outlook 2013, 2016, 2019, and 2021 but don't know the most appropriate procedure for the same. Thus, we have listed three different ways that you can use to add OST to Microsoft Outlook. Although you can use any of these ways, the first procedure is the first choice of experts due to its secure and quick conversion process. Moreover, you can use the application to load orphan OST files into Outlook.