Summary: This blog provides a detailed overview of how one can export Zimbra mailbox to PST. There are two ways through which you can carry out the entire process. However, by experts' suggestion, it is always recommended to opt for professional software as it offers an error-free experience.
Zimbra and Microsoft Outlook are two of the most preferred email platforms that organizations choose for email communication. Both these applications offer a flawless experience and comes with both desktop and webmail version of email clients. Although Zimbra provides the overall experience at a relatively less cost when compared to Microsoft Outlook, still many businesses prefer Outlook over Zimbra.
It is because of the better features and security of Microsoft Outlook when compared to the Zimbra email client. Thus, businesses look for options to export Zimbra mailbox to PST format and access their emails in Microsoft Outlook.
In this article, we are going to discuss two ways using which you can migrate Zimbra to Outlook in an efficient way. First is the free manual way, which requires both Zimbra and Outlook to be installed on the system. The second option is the professional third-party application that makes the entire export process simple and error-free.
Method 1: Export Zimbra Mailbox to PST File Using Free Steps
When you choose the manual way of exporting Zimbra mailbox, then the whole process requires three major steps. The 3 steps to convert Zimbra to Outlook PST are discussed below:
Export Emails from Zimbra Mailbox
Import Resultant Files into Outlook
Export Zimbra Emails to PST Format
Step-1: Export Emails from Zimbra Mailbox in EML Format
1. Open the Zimbra application and click on the Preferences option.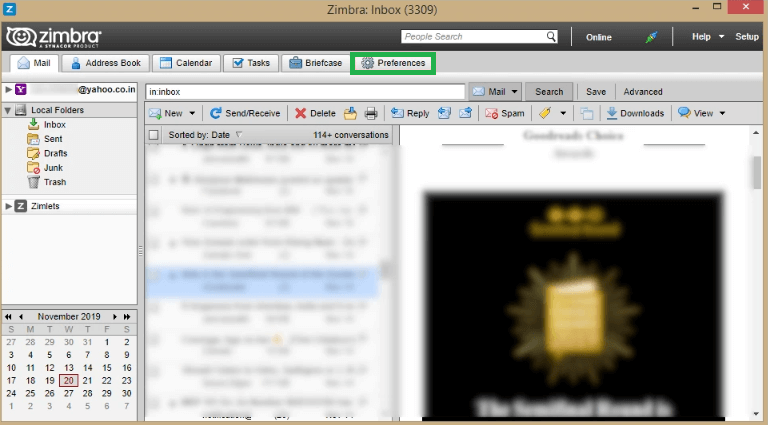 2. Click on the Import/Export option in the left pane.
3. Under the Import / Export window, click on the All folders button under Export section.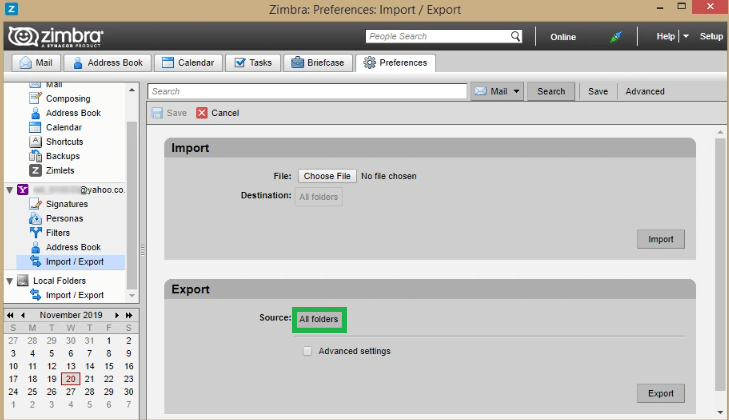 4. Now you can choose whether to export selected or complete folders.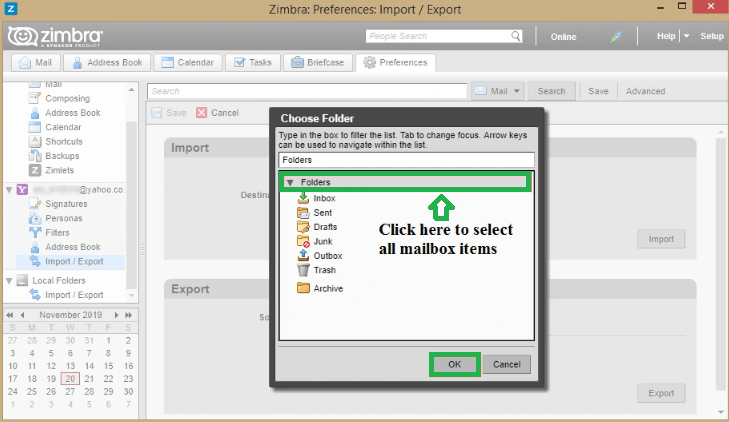 5. Click on the Export button to start export Zimbra files to PST.
6. Browse the storage location where you want to save the destination files.
7. The files will be downloaded in a TGZ file that you can unzip using WinZip or any other tool. All your emails will be extracted in the EML file format.
Step 2: Import Resultant Files in Microsoft Outlook
1. Open Microsoft Outlook in your system, create a New Folder in your mailbox, and name it Zimbra (or any desired name).
2. Open that folder and drag & drop all emails into the new folder.
3. Now you can access those emails in Microsoft Outlook without any issue. However, if you want these emails in a PST file, then please follow the below-mentioned steps.
Step 3: Export Zimbra to PST File Using Microsoft Outlook
Open Microsoft Outlook >> Go to File tab >> Click on the Open & Export button.
Click on the Import/Export option and choose Export to a file option.
Choose Outlook Data File (.pst) option and click on the Next button.
Select the folders that you need to export. Here, you have to select the new folder containing Zimbra emails.
Browse the location where you want to migrate Zimbra emails to PST file.
You will get a prompt to put a password on the PST file. Click on the OK button if you want the PST file password free.
Finally, the steps to migrate Zimbra to Outlook are complete and you can access the PST file in Microsoft Outlook. Although these steps are free to use, there is a bit of technicality involved in these steps. Moreover, when you import EML files into Outlook, there are some issues in previewing those emails in Microsoft Outlook. Thus, it is not a seamless process.
If you want a simple process and don't want any errors in the process, then you must go with the following solution.
Method-2: Error-Free Way to Export Zimbra Mailbox to PST File
Considering the technicalities and issues involved in migrating Zimbra mailboxes, it is highly suggested to go with the automated tool instead of the free manual method. When talking about the software, many experts suggest going with TTD Zimbra Converter Software. This is one of the best software that ensures complete conversion without making any changes to the data. You can download the application for free and test all features to convert Zimbra emails to PST format.
Along with PST file format, you can export Zimbra mailbox to many other file formats like PDF, EML, MBOX, etc. Moreover, there are many other advanced features as well like a date filter, split PST files, and intact folder structure that make it one of the best tools to opt for.
If you are also one of those who need a smart solution to migrate Zimbra to Outlook, then this is the best application for you to opt for.
Final Words
All organizations use one or the other email client for day-to-day communication purposes. But when it comes to the best email client, many businesses prefer Microsoft Outlook over any other client due to its wide range of features and easy-to-use graphical interface.
If you are also one of those who are currently using Zimbra and want to switch to Microsoft Outlook, then this article will guide you to export Zimbra to Outlook PST files with ease. You can choose any of the two ways depending on your usage and ease.