Overview: Moving your email data from Eudora mail to Microsoft Outlook might seem like a daunting task if you are unaware of the right set of steps. In this article, we have provided a detailed guide on how to export Eudora to Outlook without facing any issues. We have tried to make this transition as easy as possible with the best possible solution.
Despite the fact that Eudora Mail was once one of the most popular email clients for Windows and Mac users, it started losing its user base when Qualcomm stopped its development. Although many users were advised to switch to Mozilla Thunderbird as it was an open-source program, many users didn't want to take the risk again of going with an email client whose life cycle might end.
Thus, the best option that they are left with is Microsoft Outlook. It is one of the most preferred email clients among business professionals due to its wide range of features and robust security features. However, a direct transfer from Eudora mail to Microsoft Outlook is impossible as they both use different file formats to store their data.
Hence, a trusted and reliable third-party application is needed to carry out the process in a safe manner. In the following section, we have discussed an in-depth guide to export Eudora to Outlook 2021, 2019, 2016, and 2013 without losing any data.
How to Import Emails from Eudora to Outlook?
As we discussed above, there is no direct way to perform this transition across these email platforms. You first need to convert Eudora mail data into Outlook's native file format. Following that, you can import the resultant data into your Microsoft Outlook profile/account.
If you don't know the location of your Eudora mailbox database, then you can find it here in your system:
C:\Program Files\Qualcomm\Eudora
The email data is stored in .mbx file format.
Once you have the Eudora database file, you then need to download the expert's recommended MBOX File to PST Converter. This software has all the essential features that you would need to perform an effortless conversion. You can load the Eudora mailbox database file into the software and preview your emails before conversion.
Along with that, if you don't want to import emails from Eudora mail to Outlook, then you also get the option of a date filter. This option will let you export emails only within a specified time range. Furthermore, you also have the option to import your data into an existing PST file or a new PST file. All these features make it the perfect choice if you are looking for a seamless transition.
The following section of the article explains how easy it is to use this application and complete the conversion process.
Step by Step Guide of Eudora to Outlook Converter
1. You first need to install this Eudora mail to Outlook conversion tool on your device.
2. Now launch the application and choose Eudora from the Email Client dropdown.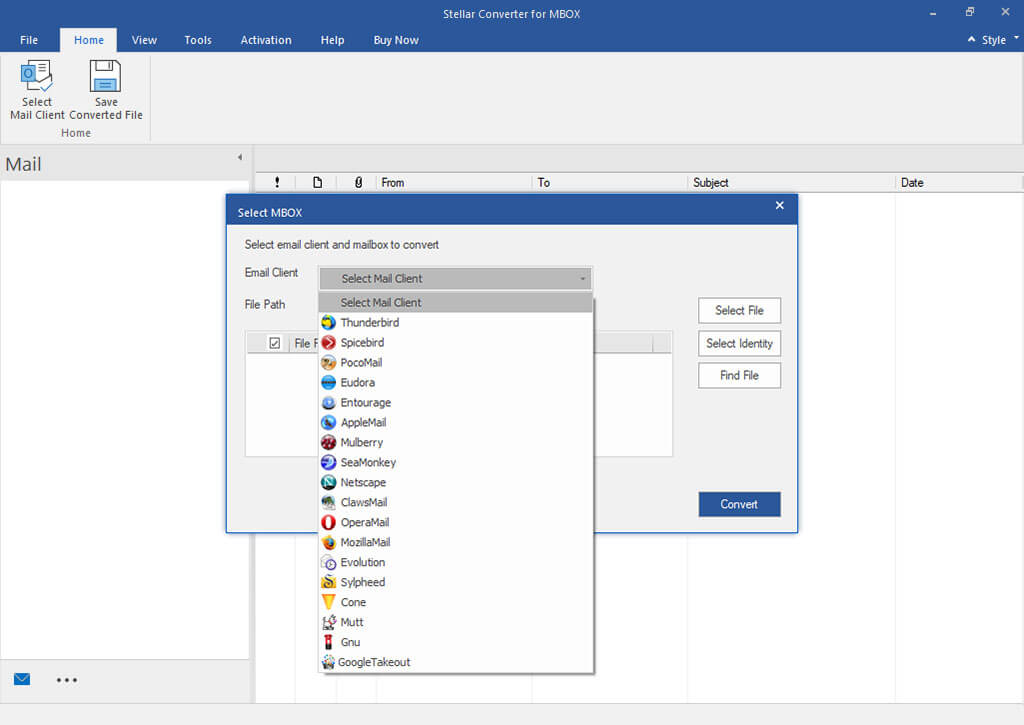 3. After that, select the MBX file that you want to convert and start scanning its data.
4. Once the data processing completes, you will be able to preview the data stored in it. You can now click on the Save Converted File option to start conversion.
5. Here you get the saving options. You can import Eudora emails into New PST or an existing PST. You can choose any of these options and proceed further.
6. You can also choose if you want to automatically split PST files or if you want to export only selected data using the date filter.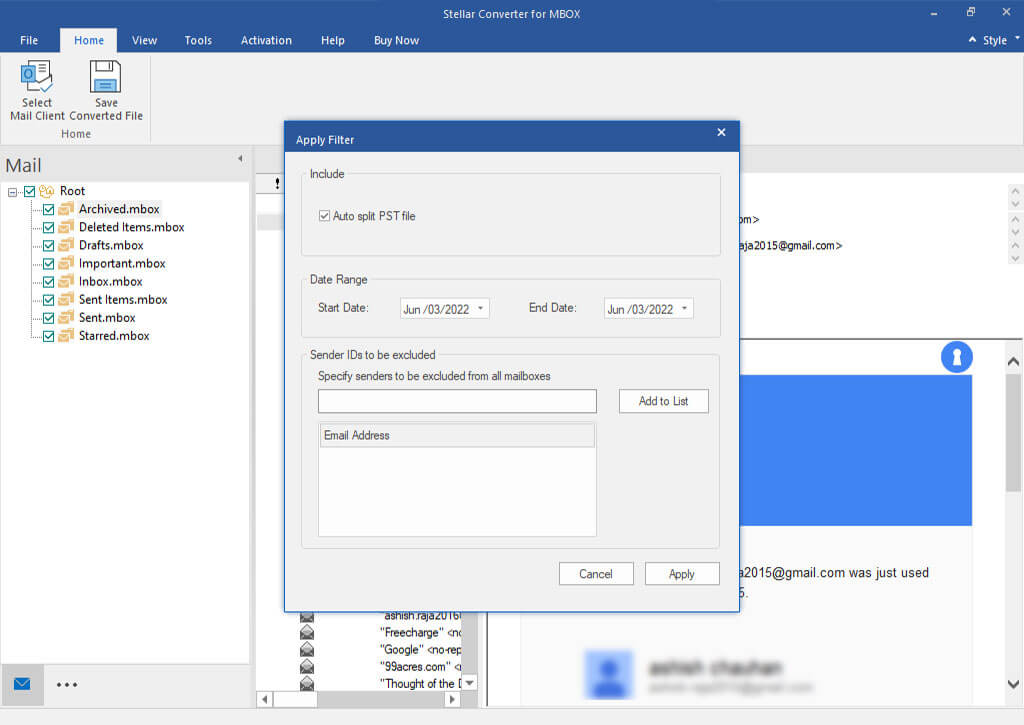 7. Finally, you need to select the destination path where you want to save the PST file. After that, click on the Save button and start importing Eudora emails to Outlook 2021, 2019, 2016, and 2013.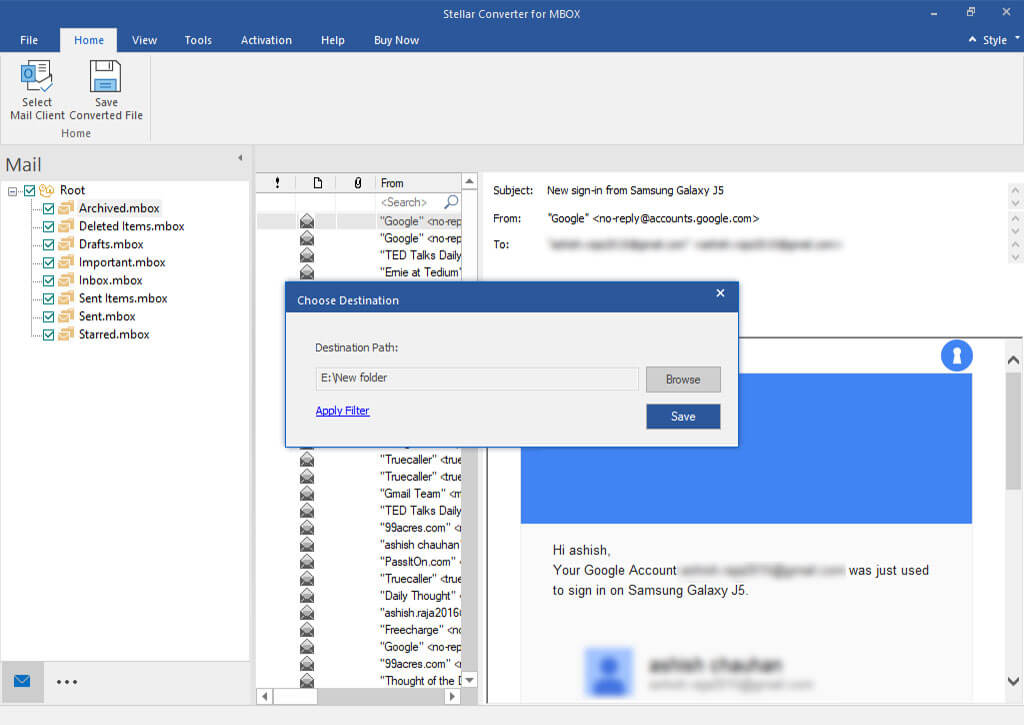 Conclusion
Once Qualcomm stopped the development of Eudora mail, a large number of users started looking for other email platforms. As Microsoft Outlook is one of the leading email clients in the market, they started switching their data to the new email platform. However, data conversion is not as easy as you think and requires a proficient solution for the same. Thus, we have provided a detailed guide on how to export Eudora to Outlook effortlessly. We hope this guide will be helpful for you and make your transition process hassle-free.